Sarah, the woman behind momwifewine.com
Today we will meet Sarah, the woman behind momwifewine.com. Sarah is a freelance writer, blogger. She writes on the relationships, parenting, life, etc. I love her writing style. Let's meet her and know her blogging journey in her own words.
Blogger Interview – Sarah, the woman behind momwifewine.com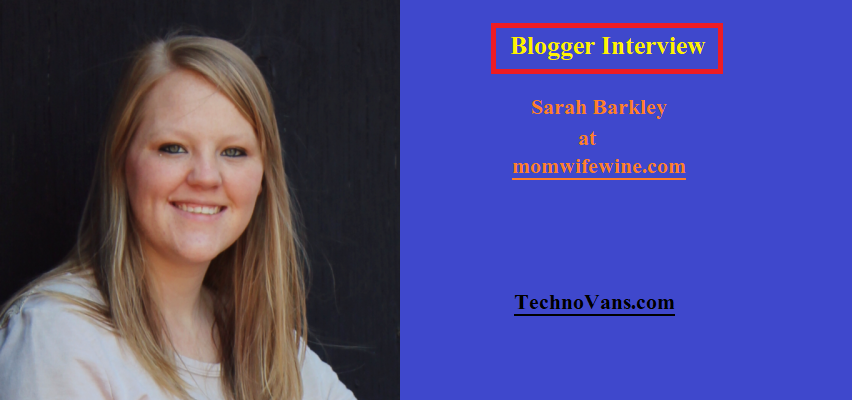 Can you tell our readers about yourself and your blog?
I'm Sarah, a wife, and mom of 5 kids. I work as an office assistant for an HVAC company, I do freelance writing and graphic design, and I work on my blog (obviously). My blog is about parenting, marriage, and just life in general.
Describe how did you first get into blogging?
When I was a teenager, I loved writing on my blog (Xanga, I think?). As a young adult, I started my first "real" blog, but just kind of did it for fun and didn't know how to really get it going. I had a few blogs over the years, but nothing that stuck.
Then, when I became a mom, I realized that in order to have the kind of the life I wanted with my children, I needed to find a way to make money that didn't involve being away from home all the time.
How do you motivate yourself to keep the blog up and running?
I love to see my blog grow, and I get excited every time I reach a new milestone. Knowing that people read what I write is such an awesome feeling and, as my blog grows, I become more and more motivated.
What do you think is the best strategy that worked well for you to get more traffic to your blog?
Pinterest, definitely!! I began scheduling my pins and I instantly saw an increase in traffic.
Related Post: Tips to get more traffic to your blog
In the future where do you hope your blog will take you?
I hope my blog will give me the ability to spend more time with my kids, allow us to take more family vacations, and eventually replace both mine and my husband's income.
Would you encourage other people to make their blog?
Yes, definitely!
A lot of people think that blogging is an easy way to make money online. Do you have some tips for those people who are interested in making money from the blog?
You have to remain motivated and positive even when you don't see instant results. Making money from a blog takes time, but it is so worth it if you stick it out.
Related Post: How to Make Money Using Blogging
What do you think about my blog TechnoVans.com? What do you like about it and what improvements you will suggest?
I think it's awesome because it features so many interesting bloggers. The only improvement I would suggest is that there should be more eye-catching graphics.
What are the TOP THREE blogging tips you will share with our readers?
1. Plan ahead
2. Be consistent
3. Network, reach out, and meet other bloggers.
Where can our readers find you?
Blog, Twitter, Instagram, Facebook
---
Also Read: Meet Minosh, Full-Time Tech-Blogger
---
I would love to get feedback on this interview series from all of my readers. Give your valuable feedback in the comment box below or by contacting us.