5 Tips to Grow Your Business Online in 2020
When you're just starting, you don't have thousands of dollars to market and advertise your products or services. However, in the age of the internet, you can grow your business without spending a single dime. All it takes is your time, effort, and imagination.

In this post, you'll read about 5 ways to grow your business online, although these strategies don't require you to invest money just now, you can consider boosting your efforts as you grow.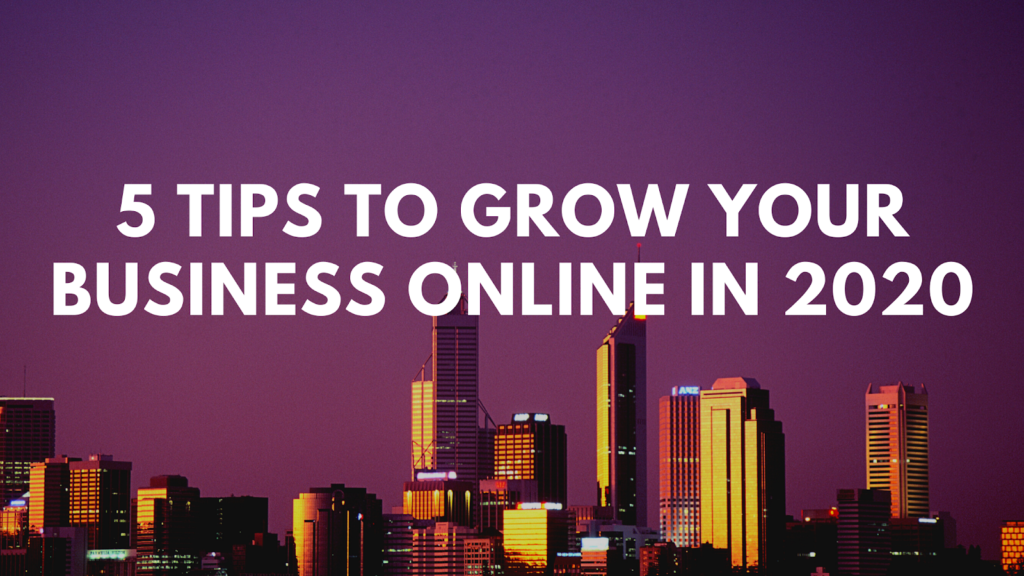 5 Tips to Grow Your Business Online in 2020
1. Create a Blog and Deliver Great Content
If you don't already have a blog page on your business website, then consider adding one today.
A blog is the best way to increase your chances of being discovered on search engines when your potential customers search for the products and services that you offer.
Your blog page should have engaging, interactive and informative content. Creating content that brings value to the reader would establish you as an authority in your business domain.
The organic traffic from blogs brings quality leads and engages visitors that increase the chances of a business opportunity.
Also, if your blog constantly features in the top search results, you would be able to dominate your market.
Having a strong blog page is also cost-effective in the long term.
Also read – Tips to get more traffic to your blog
2. Make Sure Your Website is Mobile Optimized
More than 50% of the people use mobile to surf the internet and if you're in India, this number is more than 67%; undermining the power of mobile search can significantly affect your business growth.
Google takes that number seriously and penalizes websites in terms of search ranking if they're not responsive.
Consider, would you like to zoom in and out while going through a website on your mobile? No? Similarly, people visiting your website won't visit your website again if they have their first impression spoiled.
You can check the mobile responsiveness of your website using Mobile Friendly Test tool provided by Google.
3. Make Sharing and Finding Easy
Ensure that all social media pages of your business are linked to your website homepage and your blog posts have the social sharing option.
When someone visits your website, make it easy for them to find you on social media platforms. Social media allows people to see what other people have to say about you.
Also, your blog posts should have an option to share, if people like your content, they will share it. Make sure your Facebook page and other social media pages are optimized for engagement.
To make the most out of social media, create great social profiles, engage with your audience, and truly care about what they say about your business.
Also Read: How to Grow Your Business Using Social Media
4. Leverage Free Marketing Tools
There are many free tools that you can use to boost your marketing efforts. These tools work as the small pieces in your large marketing picture.
You can use these free tools to create awesome graphic content, capture leads, optimize blog content and others. A lot of your time can be saved that you have to spend working manually with the help of these tools.
Below are some great tools to begin with:
Canva (Online Platform): For creating graphics
Mailchimp (Plugin and Platform): For email campaigns and capturing leads
Yoast (Plugin): For content and website SEO
Grammarly (Plugin): To check grammar and spelling errors in your content
Hootsuite (Platform): To manage your social media postings
5. Build Industry Relations
There is nothing which will give you more benefits than making industry relations and networking.
Making good relations with businesses who are in your industry, but don't have the same target audience will give you more reach and eyeballs.
For example, Reliance Jio in a partnership with Facebook launched JioMart, an e-commerce platform that allows users to place orders on WhatsApp and purchase groceries through their neighborhood grocery store. The partnership gave Jio access to a 400 million user pool and Facebook an opportunity to invest $5.7 billion in Reliance Jio and secure a 9.9% stake.
You can also leverage the power of networking to grow your business online.
Author Bio:
Madhur Kushwah is a Hubspot certified content marketer. Currently, he writes for a leading ed-tech company and Marketing Hashtags.