Babita Tade becomes crorepati in Kaun Banega Crorepati 11
After Sanoj Raj, IAS aspirant, KBC found its second crorepati. The second crorepati of Kaun Banega Crorepati 11 is a mid-day meal cook Babita Tade from Maharashtra state. Babita won Rs. 1 crore in KBC season 11. To win Rs. 1 crore question, Babita had taken a lifeline.
"The question asked for 1 crore win was very tough. It was old and I couldn't recollect the answer. I had one lifeline left and had to use it. With its help, I won 1cr", Babita says.
Rs. 1 crore question for Babita Tade in KBC 11 was:
Which poet in the court of Mughal ruler Bahadur Shah Zafar wrote the 'Dastan-e-Ghadar', a personal account of the 1857 revolt?
Mir Taqvi Mir
Mohammad Ibrahim Zauq
Zahir Dehlvi
Abul-Qâsem Ferdowsi
Right Answer: Zahir Dehlvi
Babita Tade cooks mid-day meal in a government school and is paid a meagre amount of Rs 1,500.
---
Related Post: Kaun Banega Crorepati 11 – Sanoj Raj won Rs 1 crore
---
She also attempted the question of Rs. 7 crores, but she was not sure about the right answer hence she decided to quit. After quitting the Rs. 7 crores, jackpot question, Big B Mr. Amitabh Bachhan Ji asked her to choose the right answer 🙂 And the answer given by her was the right answer 🙂
Rs. 7 crores question for Babita in KBC 11 was: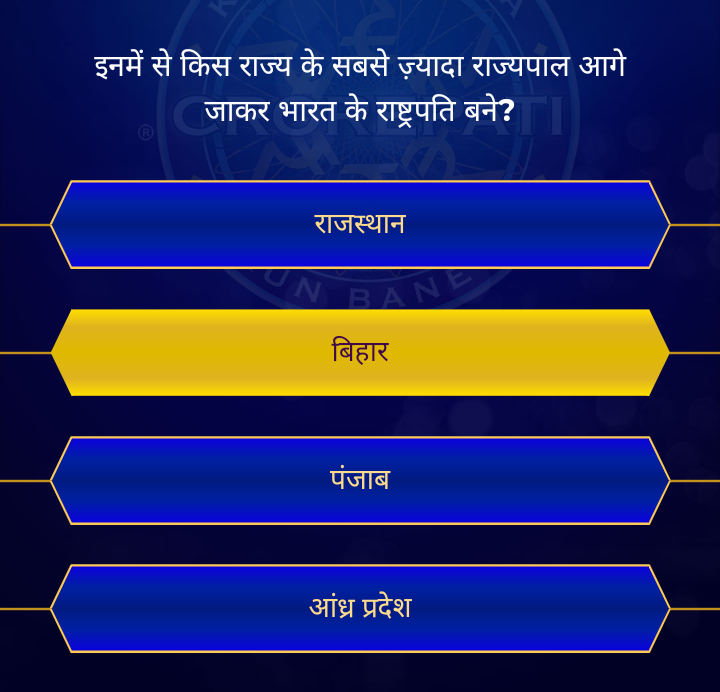 Which of these states has had the most number of its governors become presidents of India?
Rajasthan
Bihar
Punjab
Andhra Pradesh
Right Answer: Bihar
She wants to make a Shivalay and spend the money how her husband wishes to spend it.