Kaun Banega Crorepati 11 – Sanoj Raj won Rs 1 crore
Today, on 13th Sept 2019, the contestant, Sanoj Raj has answered the question of Rs. 1 crore. Sanoj won Rs. 1 crore.
Kaun Banega Crorepati, show hosted by Amitabh Bachchan, has always been one of the most loved shows in the past two decades. People get glued to their television sets to watch the quiz show ad play along with the contestants while sitting in their home. People start screaming when the contestant wins the desired amount and feels extremely sad when they lose. KBC is indeed emotional and currently, the show is on its 11th season.
He is the first Crorepati of this season Kaun Banega Crorepati 11.
Sanoj decided to Quit at 16th question of Rs. 7 Crores to avoid the risk of losing the hard-earned money.
Sanoj writes poetry in his free time and plans to publish his works someday.
Related Post: Despite the physical disability, she became a world-class dancer
Sanoj Raj, the first contestant this season to win Rs 1 crore, has left everyone in awe of him. The contestant also attempted the jackpot question but decided to quit on realizing he doesn't know the answer.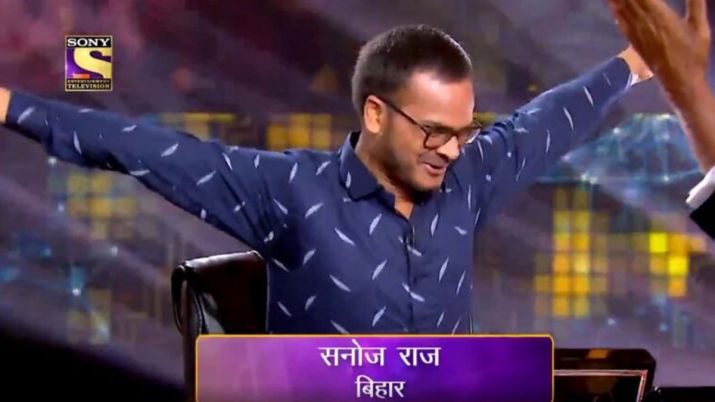 After winning Rs 1 crore, an overwhelmed Sanoj's expression can make even the coldest hearts melt. Jumping with excitement, Sanoj raised his hands in the air and smilingly said, "Mujhse vishwaas hi nahi ho raha sir."