Blogger Interview – Meet Britt Kascjak and get some important blogging tips
I have started Bloggers Interviews new section at TechnoVans where I will be publishing "Bloggers Interviews". And it is the proud moment for TechnoVans to publish Britt's interview as the first interview in Bloggers Interviews series. Meet Britt Kascjak and get some important blogging tips.
Britt is helping bloggers to succeed in blogging. I don't want to spoil anything else for you, so let's get right into my questions and get some important blogging tips and motivation from Britt.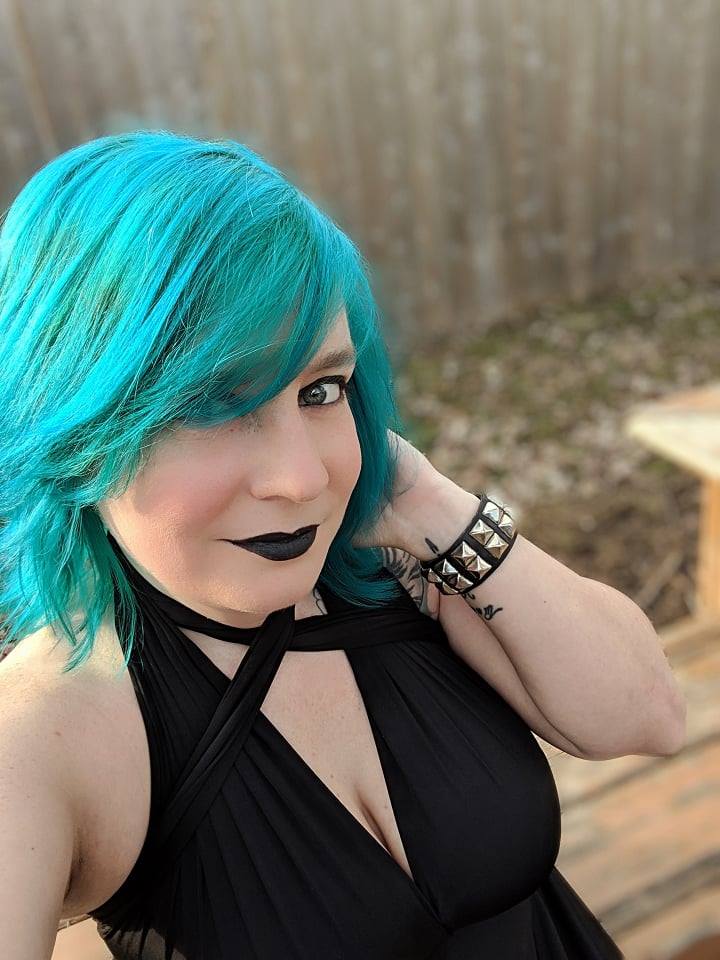 Can you tell our readers about yourself and your blog?
My name is Britt. I'm a 33-year-old from Windsor/Essex, Ontario, Canada, where I live with my husband (also a blogger) as well as our 2 dogs and 2 cats. Blue-haired and tattooed, I'm creative and quirky, always looking for life's next big adventure. I love traveling, hiking, camping and all things related to the outdoors. I am also a HUGE lover of Halloween. I work as a music instructor with Canada's longest continuously running community marching band, the Kingsville Essex Associated Band, as well as performing for weddings and other major events. I also own a digital/social media marketing company: The Social Alternative.
Alternatively Speaking is my main blog, an 'Alternative Lifestyle' blog where I talk about all things relating to tattoos, piercings, rainbow hair, Halloween and alternative culture, as well as the topics of travel, pets and the great things, found right here in the Windsor/Essex area (#YQG).
Unapologetically You is all about blogging and social media tips, tricks, and advice. As someone one who went to school for Marketing, as well as completing a number of different certifications focused on digital and social media marketing, I would get a lot of questions from other bloggers looking for information. I have always loved helping others, and this is a great way to use my education and experience to help others achieve success. My motto? Rather than trying to hide your quirks or the things that make you different, embrace them! The key to real success comes in being 'Unapologetically You'!
How will you introduce yourself in three words?
Determined, Creative and Weird
Describe how did you first get into blogging?
My first blog was back when I was a teenager, writing about the drama and 'excitement' of my life at the time as so many of us do. It was like an online diary. With little to no knowledge of the marketing side of blogging, the only comments I would receive were from the occasional friend or family member. This lack of engagement meant that I eventually grew tired of it, shutting that blog down. I started a couple of other blogs in the years that followed, each focused on an interest or hobby but each would only last so long before life would happen and I would move on, leaving them behind.
In 2017, inspired by my new knowledge in the world of digital marketing, I started Alternatively Speaking. This time it was different, I wasn't writing for no one and I wasn't writing about a topic that I would lose interest in overtime. Instead, I was writing about many of my greatest passions in life – my own lifestyle. As I started to attract and build a community of others who share these interests, it inspired me to keep going, push myself harder, learn more and tap into my creativity. I am so proud of the result and can't wait to see where it takes me!
Can you tell me some of your strengths that really helped you in blogging?
I believe that everyone has strengths that can help them as a blogger, as long as we learn how to apply them effectively. For me, my stubbornness and determination help me overcome any challenges I face along the way, while my creativity is the spark that makes everything work. Meanwhile, it's my love for helping people that inspire me.
How do you motivate yourself to keep the blog up and running?
I feel like the last line of the answer before this leads to this question perfectly! I have always had a love for helping others and blogging is a great way to do that. Alternatively Speaking provides me with the opportunity to share important information regarding tattoo and piercing care, as well as a platform to help normalize the alternative culture among adults (as many believe it's nothing more than teenage rebellion). Unapologetically You, on the other hand, is an opportunity to help other bloggers succeed.
What do you think is the best strategy that worked well for you to get more traffic to your blog?
Embrace your individuality! Don't try to fit some mold or become someone you're not, your audience will be able to sense this, and it will prevent them from trusting you. After all, why would they trust you and the information you're sharing if they feel you are fake? Instead, allow your personality to come through. Be yourself!
Related Post:
Important Blogging Tips by Amit Agarwal
Blogging success is driven by creating a connection with your readers. You want them to feel as though they know you and trust you, as that will keep them coming back. This can be accomplished by not only allowing your personality to shine through but also in engaging with your audience. Respond to comments, 'talk' with them using social media. Be relatable.
In the future where do you hope your blog will take you?
I currently work for homemaking my income as a blogger, freelance writer, and social media marketer. I would love to continue growing my blog, reaching new people and creating new connections. Eventually, my goal is to replace my husband's income enough that we could travel more often. We have been talking about renting an RV or van camper and driving across Canada and the US with the pups. 
Would you encourage other people to make their blog?
Definitely! Whether you're looking to blog as a hobby or you are aiming to make a fulltime income, go for it. The blogging community is incredible. It is a great way to tap into your creativity and express yourself.
A lot of people think that blogging is an easy way to make money online. Do you have some tips for those people who are interested in making money from the blog?
The best advice I have for every blogger is to adopt the mindset of a lifelong student. The online world is continually changing and evolving, and we need to be open to the idea of evolving with it. In order to do this, it is important to put any ego aside and be willing to admit that we don't know everything. Take the time to read, research, watch videos, and more. There are many incredible online courses you can take to continue to grow and expand our knowledge. Never stop learning.
What do you think about my blog TechnoVans.com? What do you like about it and what improvements you will suggest?
I think you have done a great job up to this point, bringing valuable knowledge to your audience. The layout of the site is very much an online magazine type style which can be highly effective.

My biggest recommendation in looking through the site is to look at adding a Pinterest pin button plugin. Of the various social media platforms, Pinterest is recognized as being one of the most effective to drive traffic back to our blogs and websites. That being said, we should take all available steps to encourage our readers to share our content there. The addition of a pin it button will make it far easier to share your Pinterest graphics, which will lead to greater reach.
What are the TOP THREE blogging tips you will share with our readers?
1. Be unapologetically you! Don't just identify what makes you unique, embrace it. Those quirks are your strengths – they have the ability to propel you towards success if you learn how to use them to your advantage.
2. Develop an appetite for knowledge. There is so much great information out there, you simply have to open yourself up to it. When you set up your week, schedule in the time simply to learn.
3. Work smart, not hard. It's easy to make yourself seem 'busy' but not actually accomplish much. Instead, take a step back and figure out the most effective way to complete what needs to be done, freeing your time for other things in life.
Read all the blogging tips here on TechnoVans.