Coronavirus India Updates – 17 March 2020 ( 5.00 pm )
Coronavirus India Updates – 17 March 2020
129 cases have been detected in India.
Recovered cases are 13.
3 Death Cases as of now.
– A 64-year old man today died in Maharashtra( Mumbai ) from coronavirus. This the third case of death due to the virus.
– While a 76-year-old man from Kalaburagi who returned from Saudi Arabia had died on Tuesday.
– A 68-year-old woman in Delhi who had tested positive had passed away at the Ram Manohar Lohia (RML) Hospital on Friday night.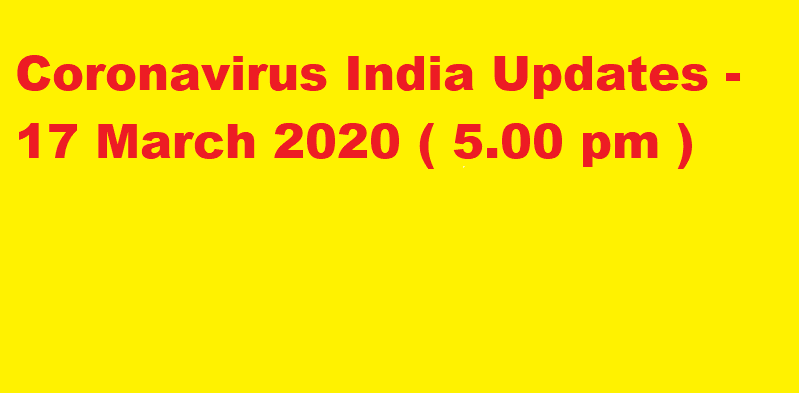 Karnataka State Road Transport Corporation's premium buses being sanitised, by the state govt, after their arrival to the bus depot and before their departure for the next journey.
Shani Shingnapur temple closed for devotees till further notice
Red Fort has been temporarily closed due to Coronavirus
Rajghat has been closed till 31st March due to Coronavirus.
Taj Mahal, all ASI-protected monuments, museums shut till March 31 –
All ASI-protected monuments and all central museums are being closed with immediate effect in the wake of Covid-19 situation. An order in this regard is being issued soon
Coronavirus India Updates – Maharashtra
Maharashtra govt starts stamping left hand of those in home quarantine.
Public Health Minister Rajesh Tope who was also present, said while 39 people have tested positive for the virus in Maharashtra
Basic protective measures against the new coronavirus –
Wash your hands frequently.
Maintain at least 1 metre (3 feet) distance between yourself and anyone who is coughing or sneezing.
Avoid touching eyes, nose and mouth.
If you have fever, cough and difficulty breathing, seek medical care early.
Stay at home if you begin to feel unwell, even with mild symptoms such as headache and slight runny nose, until you recover.
---
We will keep updating for Coronavirus India Updates.
Take Care!