Story of Mark Zuckerberg, CEO of Facebook
Today we came with new motivational story. The story of Mark Zukerberg, CEO of Facebook.
Who Is Mark Zuckerberg?
Born May 14, 1984 in White Plains, New York. Mark's father, Edward Zuckerberg, is a dentist and mother, Karen Zuckerberg, is a psychiatrist.
Mark got interested in programming yet in elementary school. Zuckerberg began using computers and writing software in middle school.
His father taught him Atari BASIC Programming in the 1990s and when Mark was about 12, he used Atari BASIC to create a messenger, which he called "ZuckNet." It made all the computers connected to each other and allowed to transfer messages between the house and dental office. His father installed the messenger on his computer in his dentist office, and the receptionist could inform him when a new patient arrived.
Facebook Story:
On February 4, 2004, Zuckerberg launched Facebook from his Harvard dormitory room.
Facebook was founded by Mark Zuckerberg with his college roommate and fellow Harvard University student Eduardo Saverin.
The tasks of Mark Zuckerberg included programming of the site and creating a special source code, which would allow the system to work as quickly as possible.
Six days later after launching the site, senior students brothers Cameron and Tyler Winklevoss and Divya Narendra accused Mark Zuckerberg of stealing their idea. They claimed that in 2003 hired Zuckerberg to make him complete the establishment of the social network HarvardConnection.com. According to their testimonies, Zuckerberg did not provide them the results of his work but used the original source code to create Facebook.
The Winklevoss twins and Narendra filed a lawsuit against Mark Zuckerberg, but the court rejected their claim. The battle finally ended in 2009 with a settlement valued at over $60 million. The battle took five years and a lot of court time to resolve.
Zuckerberg's Personal Life: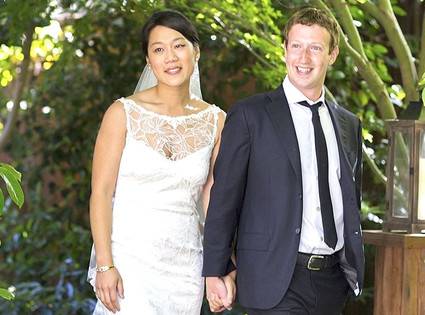 On May 19, 2012 Zuckerberg wed his longtime girlfriend, Priscilla Chan. Priscilla Chan is an American pediatrician and philanthropist.
Chan comes from a lower-class, immigrant family. It was her hard work, dedication and perseverance that landed her at Harvard where she met Zuckerberg, and the story started…
Incredible Facts you should know about Mark Zuckerberg
He turned down many offers to sell Facebook:
Many big name companies wanted to see if he wanted to sell — NewsCorp, MySpace, Viacom, Yahoo, NBC, Microsoft (again) and Google all put their hats in the ring — but Zuckerberg held firm.
In 2010, Mark Zuckerberg was named the Person of the Year by 'Time' magazine.
He was awarded CEO of the Year accolade at the 6th annual Crunchies in 2013.
Mark Disliked the Social Network.
Mark is Vegetarian.
Mark Zuckerberg's salary is $1
Zuckerberg is color blind. The reason Facebook is blue, is because Zuckerberg is color blind. He suffers from red/green colour blindness and can see the blue best.
Please provide your valuable comments on this story.
Follow us on Twitter: @hellotechnovans