6 Important Factors of On-Page SEO
In this post, we are going to understand the 6 important factors on On-Page SEO. SEO ( Search engine optimization ) is essential for your online business. If you want to make your business website or blog get ranked in Google ( Search Engine ), then you need to work more on the optimization of your website with regards to SEO.
What is SEO?
SEO stands for Search Engine Optimization. The long-form of SEO says everything. Making your website SEO friendly means when people search for something related to your services or business then your website should come on top of the search results.
What is On-Page SEO?
On-page SEO refers to all the measures that can be taken directly within your website to improve its position in the search rankings.

There are more than six factors, but the six below will get you 95% of the optimization of your website or blog.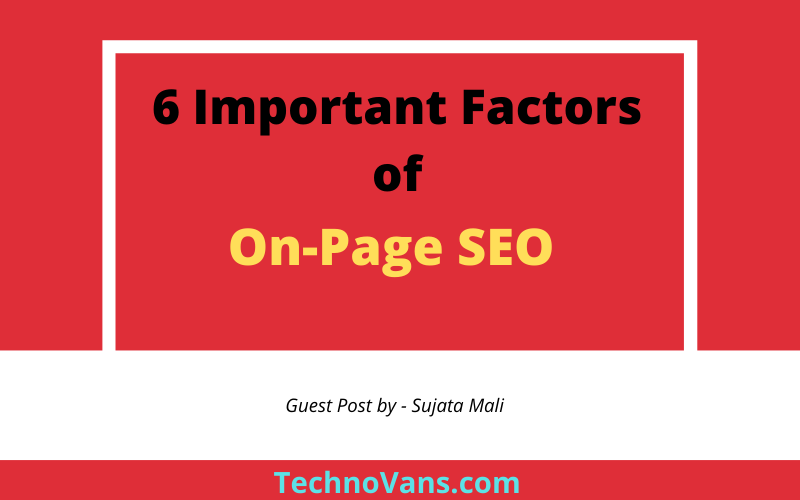 6 Important Factors of On-Page SEO
1) Page Titles
"Page Title" is one of the most important on-page search engine optimization factors. If your site framework doesn't have special functionality to create a unique page title, it will usually use whatever you set as the page name in the backend of your page.
If you are using WordPress as your CMS (which I highly recommend), then you can easily use the Yoast SEO plugin to create a unique page title.
Keep the page title length under 70 characters, and closer to 50 characters if you can.
2) Heading Tags
After the page titles, heading tags are the next most important On-Page optimization factors. Headings are the titles you give your content, and these should be in H1 format for the best results. Headings should focus on relevant and descriptive words, and while you can optimize them with keywords, don't stuff them full. Use the page headings like you would an outline for a paper. Headings should follow a logical hierarchy without skipping steps.
It's best to only use one H1 on a page. That being said, it's also important that your web page is about one organized topic, to begin with.
In order to break up content, you can also use subheadings (H2 through H6) following the same best practices, but don't repeat keywords or phrases throughout a post.
This helps Google and other search engines identify and better understand what your page is about, and if your page deserves to rank highly for related user queries.
3) Keyword Usage
Keyword usage within the body of your page is important. I am not a proponent of focusing on using a certain keyword density, as was common practice in the early days of SEO. However, if your page is about a certain keyword topic, it's only logical that you would use your target keyword and closely related terms within the body of the page.
Think of your audience and the keywords they're searching for, and try to create and optimize your website content around those keywords.
Similar to the primacy and recency psychological principles, it is typically a best practice to include your target keyword near the top of your page and the bottom of your page. You can use related keywords throughout your page to avoid keyword stuffing while still following on-page SEO best practices.
Google's algorithm is becoming more and more advanced each day and exact match keyword usage isn't do-or-die.
4) URLs
Including the target keyword in your page URL is the best practice. This used to be an important on-page ranking factor, but it's speculated to account for less than 1% of your page's SEO value today.
The biggest benefit of this practice is that when someone links to your page with a naked URL (the actual URL is used as the anchor text), the link anchor text will still include your page's target keyword.
In addition to the factors listed above, an organized URL structure is important for today's marketers, because it allows search engines to crawl from page-to-page on your website more easily, and makes navigation more efficient for visitors.
URL structure is important when search engines determine how relevant a page is compared to a query, and it should be descriptive of the page's subject. You can also optimize URLs with keywords, so long as they're relevant.
Also Read – How to Use Twitter to Drive Traffic to Your Blog
5) Image SEO
There are three main pieces to image SEO:
I) Optimized image alt tag:
Alt tag/text refers to the word or phrase that can be attributed to a picture file to help it be indexed for searching. An optimized image alt tag should include the keyword and be under 15 words. The true best practice here is to craft an honest description of the image while including your target keyword. With their image recognition technology, it is likely easy for Google to determine when someone is keyword stuffing in an image alt tag, and when someone is accurately describing an image for good user experience.
II) Image filename includes the target keyword:
Since there are limited ways to optimize an image, including your target keyword in the filename is also a good practice. This can be difficult to do when you're optimizing images on a website that already has images without filenames that have been optimized for on-page SEO.
You'll have to save the images to your local machine, then upload them again with the keyword-focused name.
III) The file size is kept to a minimum without hurting user experience:
Compress images before uploading them to your web page. You can use a free online image compression tool for most .jpg and .png files.
Also Read – 30 Things to do after writing the blog post
6) Meta Descriptions
Meta descriptions are not visible on your web page but will show up under your page title in the organic search results. A meta description is a short description that that expand on title tags, summarize a page's content and tell web users why they should read your content instead of somebody else's. It appears below your URL on a search engine results page and below a headline in a social post.
It should describe the content on that page, but more importantly, be sure to include any relevant keywords in this area so they can be picked up by search engine crawlers.
Try and keep you descriptions to under 300 characters to ensure your entire description is shown in search results.
So , these are the 6 important factors of On-Page SEO as per my study and research. If you want to add some another important factor then please leave a comment below. Sharing is a caring!
Author Bio –
Sujata Mali, an artist, blogger. She loves to draw a sketch, paintings. She just started her blog to show her drawing art and tell a little about the same.
Follow her FB Page – Sujata Mali Art, Instagram – @sujatamaliart and Blog – Sujata Mali Art
Also Read –
Basic SEO Tips For Beginners
30 Things to do after writing the blog post