How To Use Quora To Drive Traffic To Your Blog
Creating a blog is an easy task. Writing blog posts is also not a big deal. As you have started your blog you must have the passion for the topic or niche you have chosen to blog about. Once you publish the blog post, here the main blogging activities start. One important thing you need to do after publishing the blog post is to drive the traffic to your blog post. Many of you are just busy sharing a post on various social media. But there is one BEST way to drive the traffic to your blog is Quora. Yes, Quora is the best way to drive traffic to your blog. So in this post, we will understand about How to use Quora to drive traffic to your blog.
What is Quora?
Quora is a question-answer website. People ask questions here and they get an answer here. We can say Quora is the website to Solve the Problem. If you are a software developer or programmer you may know about the StackOverflow website. StackOverflow is a niche-based website. Quora is a general website, not having any limitations about the topic.
To ask question you must be registered with Quora. Registration on Quora is FREE. Same for other activities, like to answer the questions on Quora you must be registered user. There are no charges for registration. No charges for asking the questions or answering the questions.
Quora Founded in the year 2009. Quora Was started by former Facebook employees Adam D'Angelo and Charlie Cheever. Quora's owner is based in Mountain View, California.
According to Quora,
"Quora's mission is to distribute and increase knowledge spread across the world. A large part of this knowledge is currently available to only a few people — either this knowledge is locked in their minds or only certain people have access to it. While this knowledge can also be valuable to others. We want to add people who have the knowledge and who need it, want to bring people of different viewpoints together so that they can understand each other better and by empowering all their knowledge for the betterment of the whole world Share."
Quora is also availabe as a Mobile App, I love the Quora App.
So once you register and start reading on Quora you will get an idea of What is Quora, We can not cover it in detail in this post. Main purpose of this post is How to use Quora to drive the traffic to your blog using Quora.
How to use Quora to drive traffic to your blog
Write the answers to the questions related to your blog niche
This is the first and best way to drive the traffic to your blog using Quora. If you read a Quora regularly you will find a lot of questions related to your blogging niche.
There are a large number of "How to" questions asked by the Quora users across the world. So this is the opportunity for bloggers to answer these questions and leave a link of your blog somewhere in answer. Quora is the best way to build links to your blog.
So your next question may be how to answer on Quora? or what is the best way to answer the questions on Quora?
How to answer the questions on Quora to drive the traffic to your blog?
First Search for the questions about your topic on which you already have written a blog post. Why I am telling you to search for the questions about which you have already written on your blog, because, you can give that link in the answer. The link which you will be giving in your blog post must be related to the Question and Answer you are providing.

Long and detailed answers get a high number of views and upvotes on Quora.
The answer having a large number of views and upvotes get ranked in Google. So the best of Quora is your answer is helpful not only for the person who asked a question but also for others who are looking for the answer to the same question. If you build the trust of users by giving the detailed and right answer to the questions then people will check your profile and will read all the answers you have given to the questions asked there on Quora.

There are high chances that users/readers will click on the link of your blog post you have provided in a detailed answer to the question on Quora.
IMPORTANT: Only answer the questions if you really know the answer, don't fake the answer.
You can check one of the answers given by me to the question on Quora
Answer to the Question: Can I take any content ideas from Quora to blog? If so, what are some guidelines to follow?
This is the answer to the question Why can't most blogs never make it big on the internet? in which I haven't given any link to my blog.
Answer Requests from Quora or Quora Users
Once you started answering questions on Quora on a specific topic like Blogging then Quora will suggest users request answers from you. I get a lot of requests to answer questions related to Blogging. I try my best to answer the related questions.
Pass the Request ( Let Quora know you don't know the answer )
There is an option to pass the question, when you don't know the answer or don't know the detailed answer then you can pass the question instead of writing an answer that question. When you pass the answer Quora takes a note of it internally/technically and you will get less/no requests of such questions. When you pass the question you are giving a signal to Quora that you don't have knowledge about this topic. So you can say there is one benefit of passing the question is You will not get irrelevant answer requests. And the disadvantage is you will not get such type of requests again if you know the answer still you pass the request. So be careful while passing the request. You still have the option to answer any question on Quora by searching relevant questions.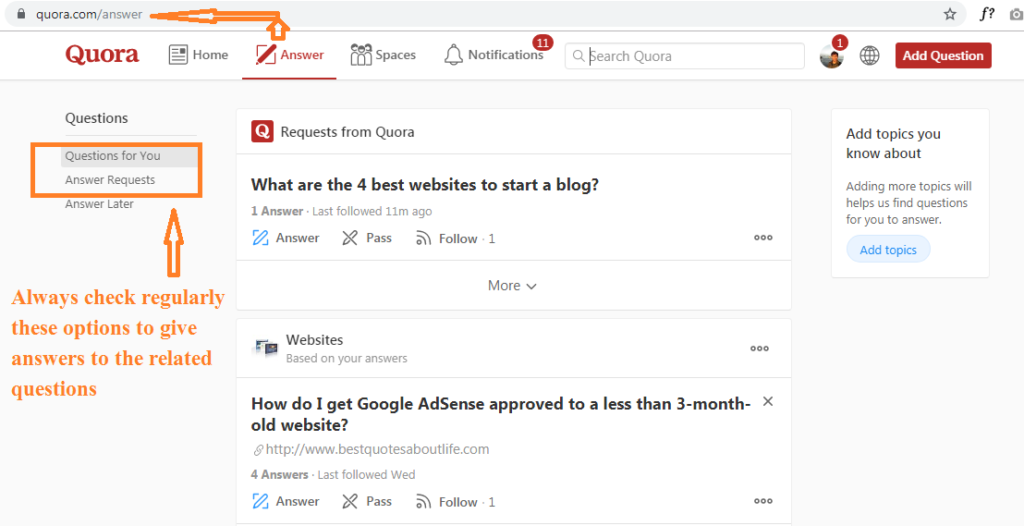 I would suggest you try each and every feature available on Quora.
Ask Questions.
Answer the Questions.
Share the Links to Quora. It is another feature, you can ask a question or just share a link.
Follow the questions. You will get notifications of each and every activity about the question you followed.
Request answers to other Quora users. You can request answers from other Quora Users for any question, even if it is not asked by you.
Promote your answer on Quora. It is a paid feature, something like an ad on Quora. Once you promote the answer, Quora will add a tag for it as a Promoted Answer.
Check notifications on Quora, you get an email when someone requests an answer from you or someone answers your question.
Important tips using Quora to drive traffic to your blog:
Don't give a link in every answer.
Don't give a one-line answer.
Don't just give the link in the answer without writing anything as a text. Quora will delete that answer.
Use Images in answer.
Don't use irrelevant images in answer.
Never try to directly promote your blog on Quora.
Don't just force the user to click on your link in the answer.
Try to provide the answer on the basis of your experience. Show users proof, screenshots, related links.
Answer the questions on Quora regularly.
Answer the question for which users directly requested an answer from you.
Answer as many questions as you can!
Mention Your Blog Link in Bio
Regularly check views and upvotes received on your answers, you will get an idea of which type of content getting high traffic on Quora.
Some of my answers written years ago are still getting views and upvotes, so it concludes that Quora is the best way to drive long term traffic to your blog. You can say Passive traffic to your blog.
You can check the stats of your answers, questions, shares, space posts, blog posts, etc. You can check upvotes, views, shares of your answers. You will get an idea of which type of content written or shared by you is getting high traffic on Quora.
If you are using Quora to drive traffic to your blog or you are thinking to use Quora to drive traffic to your blog then please keep one thing in mind always, you won't get results immediately. It takes some time to attract traffic to your blog posts! Keep calm and keep answering.
Use Quora to drive traffic to your blog. You will get quality traffic from Quora.
Explore and use Quora more to grow your blog
Try to explore Quora and use each and every feature provided by Quora. Many companies are using Quora to promote their business on Quora. There might be a possibility that you will get sponsored posts using the Quora. I got one sponsored post from Quora, which means not directly from Quora, from the Quora user ( Small Business Owner ). If you share your blogging stats, experience, traffic reports on Quora, people get influenced by your skills and will contact you. To build trust on Quora by answering the questions and helping the people. Help People, People will help you!
---
I would love to hear from you about how you use Quora to drive traffic to your blog? What are the best tips to use Quora to drive traffic to your blog? Please leave a comment below. Thanks!
---
If you want to increase the traffic to your blog in other ways then you must read: Tips to get more traffic to your blog