5 Dos & Don'ts of Blog Commenting ( Importance of Blog Commenting )
One of the best parts of Blogging is Comments. Because they are direct feedback of your content. In this post, we are going to understand the Importance of Blog Commenting along with Dos & Don'ts of blog commenting to grow your blog.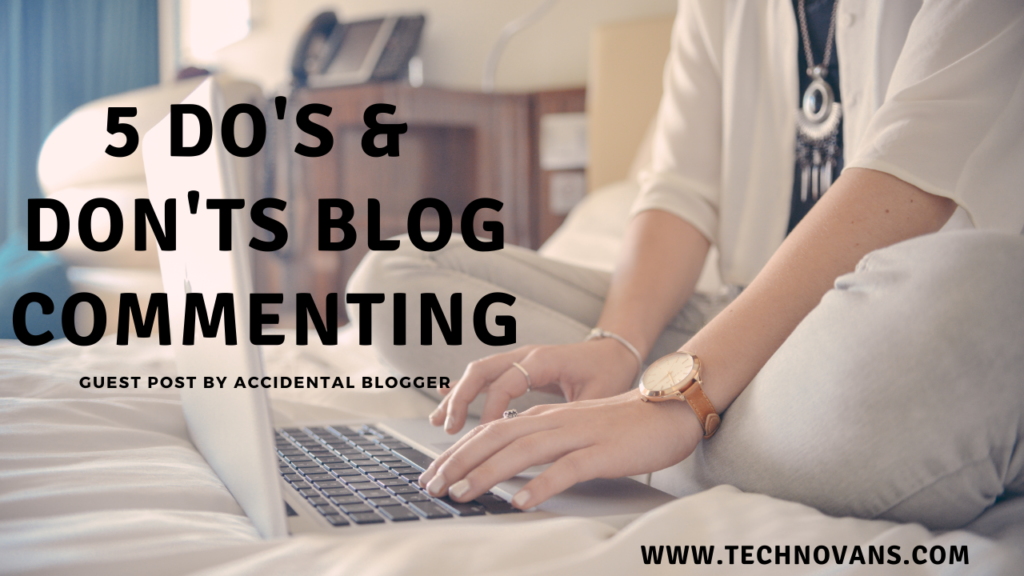 The genuine, encouraging and critical ( in a good way) comment actually motivates bloggers to keep blogging and improving. That is why effective Blog commenting is very essential for every blogger to grow their Blogs.
I am sure every blogger has at least one reader who regularly reads and put comments on their blog posts. And you always feel grateful for them.
Many times when Blogging seems like going nowhere for you, these people give you hope to keep trying and keep blogging.
But wait.. Have you ever been this person to any other blogger? Do you support other bloggers?
If not then you must start doing it now. Why?
Why You Should Comment on Blogs (Importance of Blog Commenting)
To Support Other Bloggers – No, I'm not forcing you to do this. But just think about the feeling you get when someone constantly supports your blog. You love it, right? It feels even better when you are the one supporting and encouraging other bloggers. Personally, I've experienced both. Being supported and supporting others. And it's amazing.
To Gain Your Blog Readers – Yes, you can increase your blog readers and views by commenting on other blogs. But this shouldn't be your only purpose for commenting. Only Honest and consistent comments can help you gain loyal readers for your blog.
What? You are already commenting on Blogs yet there is no result?
Because you need to improve how you comment. Here are 5 Do's & Don'ts of Blog Commenting
5 Do's and Don'ts of Blog Commenting – Grow Your Traffic
Do's
Do Read The Posts – Yes, this is the first-ever step of blog commenting. So many people don't even read posts and just comments randomly. Even I used to like posts without reading them, but later I realized this was wrong. And now I never like or comment without reading it completely. So, first of all, Be honest with yourself and read that friggin post first.

Do Comment Genuinely – One can clearly identify the genuine comments. They aren't too short or forced or spammy. When you decide to comment and have really read the post, type what & how you felt after reading it. Don't comment for sake of it. Comments like "Nice / Great Post" without actually reading the post of a big turn off.

Do Comment Regularly – We all love those bloggers who comment on our posts no matter what. You might not get that good response from others but they will still be the sweetest and kindest person. If you want to improve your blog commenting then you must be that person. Regularly comment on blogs that you really like.

Do Comment Respectfully – Being Respectful to others is important in blogging just like real life. Don't ever be rude or too harsh to anyone with your comments. Even if you have found any mistakes in that post, tell them to correct it in an authentic way. They will actually start respecting you more.

Do Reply To Comments Within Time – Some bloggers just never reply to the comments. It's like complimenting a person and he/she ignores you without saying a word. This will eventually reduce the number of readers. Hence, always reply to all the comments. Try to make your blog a healthy place for conversations & discussions. Not too formal or too informal. Create a balance.
Don'ts
Don't force yourself to comment – Never insert comments as if you're forced. Many newbie bloggers try to gain attention by commenting on anything on every blog they come across. This creates a very bad impression and also affects one's blog performance. No one will wish to check your Blog.

Don't promote in comments – To be honest, you look needy when you try to promote your blog in the comments section of other blogs. It is totally irrelevant to insert your blog address on other blogs. Personally, I never click on any links inserted in my comments section. No one does actually.

Don't Comment too Short – Comments like "Nice one" or "Good post" are short and most annoying comments. Because it makes blog post author and other readers annoying and they think as if this user has actually read the blog post or just commenting for sake of it. Try to be more descriptive whenever you comment.

Don't Make it too random or personal – Till now, you've already learned the importance of Blog commenting and how it will help you to grow your blog. But it doesn't give you the freedom to comment on anything. Some people misunderstood the blog comments section just like social media. They start or try to chat with bloggers in comments. Yes, you can have a conversation in the comments section but it must be relevant to that blog post.

Don't be too late – Let's say you've a travel blog & you've just shared a blog post titled "Tips to travel in summer". Now, if a reader reads the post & comments to ask you "Best places to visit in summer", then you can't reply to that comment in winter. It's of no use. What I mean, you must reply to the comments you receive on time. Because this is how you earn regular readers & subscribers for your blog.
Final Words
One of the biggest reasons why my blog has got an amazing response is Effective Blog commenting.
No, I didn't comment on every blog I saw or followed 100 blogs a day. I commented because I enjoyed the posts, I followed blogs because I wanted to keep reading them in the future.
And I'm sure you will too Grow your blog & also your blogging skills as you start engaging with more bloggers.
In this way, we understood the importance of blog commenting in this post. You just need to keep these 5 Do's & Don'ts of Blog commenting & see how you & your blog grow amazingly.
---
Guest Post By – Accidental Blogger
Accidental Blogger is an Engineering Student and a passionate blogger. He writes his heart out on multiple topics like Relationships, Self Improvement, Mental Health, Poetry, Blogging Tips and Photography. Subscribe to his blog www.writingmyheartout.com to read more insightful and helpful content from him. Also check him out on Instagram, Twitter, and Facebook.
---
Related Posts:
1. Top 12 Blogging Tips for Beginners
2. Top 10 SEO Tips for Bloggers