Interesting facts about Ashneer Grover, the Indian Entrepreneur
If you want to know some interesting facts about Ashneer Grover, the Indian Entrepreneur then you came to the right place on TechnoVans. Ashneer Grover comes in News because of multiple things happening at the end of the year 2021 and the beginning of the year 2022.
We are going to tell you some interesting facts about Ashneer Grover.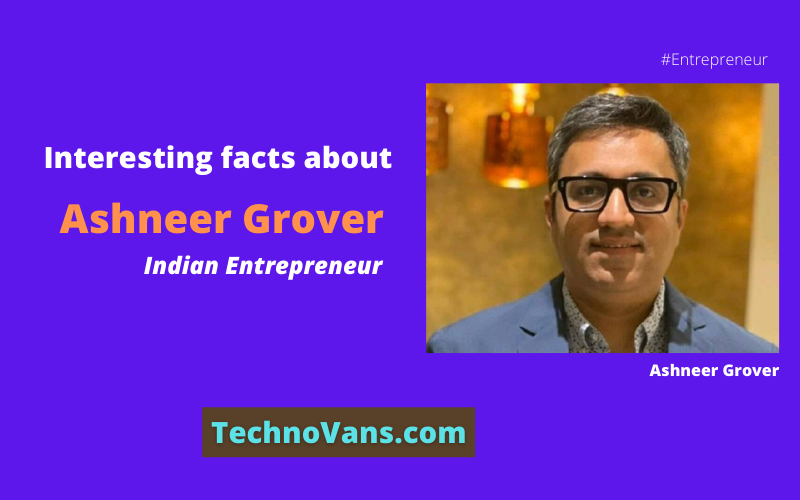 Founder of BharatPe
Ashneer Grover founded BharatPe with his co-founder Shashvat Nakrani, in 2018. BharatPe is an Indian fintech company pioneer in UPI payments and digital money lending for merchants.
Career details of Ashneer Grover
Ashneer Grover was vice president in Kotak Financing Bank between May 2006 to May 2013.
Between May 2013 and March 2015, Ashneer Grover was Director of Corporate Development of American Express.
Between March 2015 and August 2017, he was Chief Financial Officer of Grofers (Now, known as blinkit)
Between November 2017 and October 2018, he was "Head Of New Business" at PC Jeweller Limited.
He started BharatPe in October 2018 and played the role of Managing Director there till 2nd March 2022.
Ashneer Grover resigned from BharatPe
At precisely 12:04 am on Tuesday, March 2 – Ashneer Grover mailed in his resignation from BharatPe, declaring that he was stepping down from the position of board director and quitting as managing director.
As per the media reports, he took this move soon after receiving an upcoming board meeting agenda in which the consideration of action against him was supposed to be included based on the report submitted by advisory firm PwC.
Ashneer Grover's net worth
Ashneer Grover's net worth is around Rs. 21,300 crores. In fact, this net worth is of BharatPe. The true answer is Rs 700 Crore as per our research.
Personal life of Ashneer Grover
39 years old Ashneer is married to interior designer Madhuri Jain in 2008. They are now proud parents to two daughters, Mia and Adaa.
As a judge in Shark Tank India
The reality show Shark Tank India started in December 2021 was for aspiring Indian entrepreneurs to pitch their business models to a panel of investors and persuade them to invest money in their idea. Ashneer was one of the panel members ( shark ) in this show, Shark Tank India. This panel of sharks means a panel of investors.
Do you know some other interesting facts about Ashneer Grover? Please leave a comment below, Thanks!