Virat Kohli's Winning Strokes: Unveiling His Strategic Investments Beyond Cricket
Investments by Virat Kohli – Virat Kohli's Strategic Investments: Expanding Beyond the Cricket Field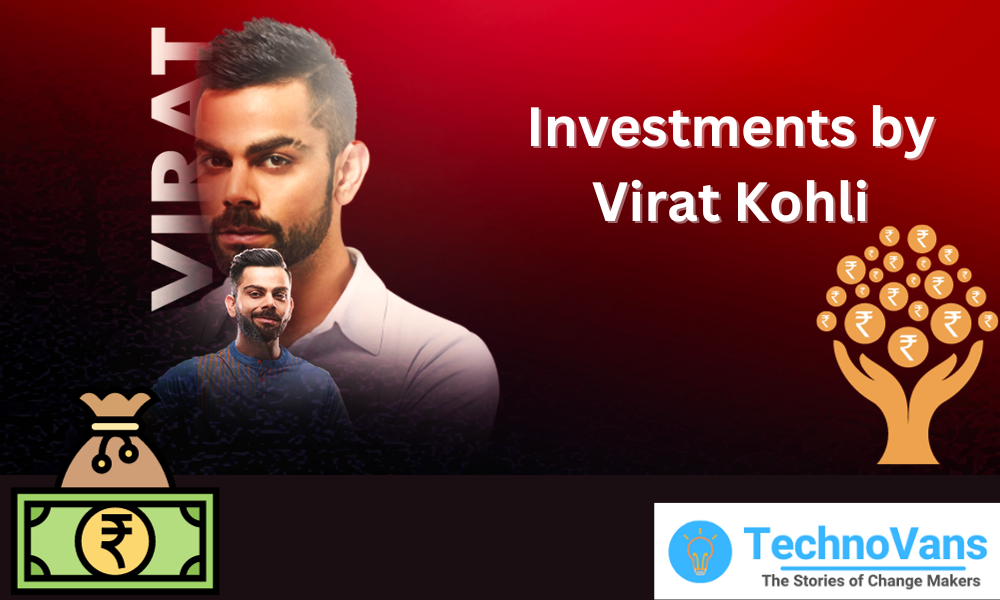 Virat Kohli, the renowned Indian cricketer and former captain, is not only a master on the cricket field but also a shrewd investor. Kohli's strategic investments in various startups have not only added to his immense brand value but also showcased his business acumen. Let's delve into the world of Virat Kohli's investments and explore the ventures he has chosen to support.
Investments by Virat Kohli in Startups
Kohli's investments span diverse industries, reflecting his interest in promoting innovative ideas and sustainable businesses. According to sources, here are some of the notable startups in which Virat Kohli has invested:
Rage Coffee: In March 2022, Kohli invested an undisclosed amount in this New Delhi-based coffee brand. The investment is expected to fuel the company's growth, enabling it to expand production, introduce new products, and strengthen its senior management team.
Blue Tribe: Kohli, along with his wife, Anushka Sharma, invested in Blue Tribe, a startup focused on providing plant-based meat alternatives. This investment aligns with Kohli's commitment to promoting sustainable and environmentally friendly practices.
Sport Convo: At the age of 26, Kohli invested in this London-based social media startup. Sport Convo aims to bridge the gap between athletes and their fans, enhancing engagement and interaction within the sporting community.
Universal Sportsbiz: Kohli, in association with Cornerstone Sports LLP, invested in this fashion startup, which received a funding of Rs 19.3 crore. This investment showcases Kohli's interest in the fashion industry and his support for emerging brands.
Galactus Funware Technology Pvt Ltd: This Bengaluru-based startup received investment from Kohli in early 2019, strengthening its position in the technology sector.
Digit: Kohli and Anushka Sharma invested close to $340,000 in this Pune-based insurance startup. The couple holds a 0.25% stake in Digit, showcasing their interest in the financial sector.
Kohli's Own Startup Brands:
In addition to his investments in external startups, Kohli has ventured into the entrepreneurial realm himself. He owns several startup brands that have gained significant recognition:
One8 Commune: A chain of restobars, One8 Commune offers a unique dining experience curated by Kohli himself.
Nueva: Kohli's fine dining bar and restaurant, Nueva, brings the flavors of South America to India, offering a distinctive culinary experience.
Puma One8: In collaboration with Puma, Kohli launched this sportswear brand, emphasizing his passion for fitness and style.
Beyond Startups:
Kohli's investments extend beyond the startup ecosystem. He is also a co-owner of FC Goa, a professional football club in the Indian Super League, as well as the UAE Royals, a Dubai-based Tennis team. Additionally, Kohli is associated with Bengaluru Yodhas, a pro wrestling league team based in Bangalore.
Conclusion on Investments by Virat Kohli in Startups
Investments by Virat Kohli in Startups and his own entrepreneurial ventures showcase his multifaceted approach to success. Beyond his achievements on the cricket field, Kohli's business acumen and strategic investments highlight his dedication to supporting innovative ideas and promoting sustainable practices. As his net worth continues to grow, Kohli's investment portfolio serves as an inspiration for aspiring entrepreneurs and athletes alike, proving that success can be achieved both on and off the field.
Also Read –
1. Startup Story of The Clueless Company founded by Mehul Fanawala and Manasi Shah
2. Her Success Story – Rashmi Daga, left her job to start an online kitchen – Fresh Menu
3. Strategies and Tips to Increase Sales of Your Product in Business