Startup Story of Omart – Talk with the founder Akash Nale
This is the Startup Story of Omart, the organic food startup founded by Akash Nale. Akash, 20 years old, young entrepreneurial mind experimenting with zero investment business ideas and he is heading towards success by these experiments. Akash sharing his story with TechnoVans.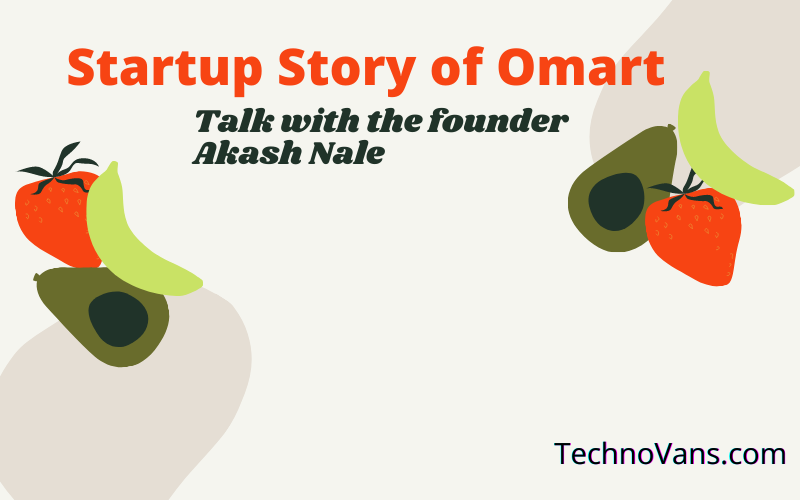 Please tell us about yourself.
My Name is Akash Nale, 20 years old medical student. I am basically from Satara District, now I reside in Mumbai for my education. I have been working on digital marketing and sales  since when I was 15 years old. Without any course I learned the digital marketing from social media and reading blogs and watching YouTube videos.
Tell us about your startup Omart. What products/services are provided by Omart?
Omart was established on 5th June 2020. I started this firm with zero investment.
We at Omart, trade in organic veggies & fruits and also few healthy bakery products. We deliver this products at doorstep.
Why the name Omart?
The name Omart was O resembles Organic And mart resembles a shop or mall 
How did you come up with this idea? and how much effort you have taken to implement it?
Before Omart I have did 6 zero investment ventures and Omart is 7th one.
I was into marketing and sales and my ventures were also associated with that. During lockdown, one of my friend knew that I'm good at digital marketing so he asked me to do marketing to sell his mangoes. Then I understood the market and margin behind every order he get from me. I discussed with him and started procuring mangoes from him. With all efforts I sold mangoes till 1 month and generated a net profit of 1 lakhs Rs.
Then I invested same money for developing web app and launching Omart. As like mangoes Vendors I started contacting various vendors and got them on board and tie-up with Omart. That's how Omart came into picture.
How do you promote your product/services?
We Promote our Products Digitally , and also we sell them via doing Network marketing. Those who are interested to work with us i personally teach them marketing skills and about sales and they get 50% cut for every order & 50% goes to Omart.
Also Read: CREATORSHALA – best platform for creators and influencers to connect with brands
What were the problems/challenges you faced up to this date? How did you overcome them?
The biggest problem was gaining trust from vendors and customers.
So to get rid out of it I have implemented two policies –
For vendor – Omart doesn't buy anything on credits from vendor payment is done at same day. 
For customers – We provide them COD. We ask them to check products. If they are not satisfied we take it back and do the replacement that's how we gain the trust
Please tell us about an achievement you are most proud of?
I have generated the revenue of Rs. 50 lakhs from venture which was started with no money just in span of 6 Months. This has to big achievement for me. I want to achieve more than this and I am consistently taking more efforts for the same.
What are the future goals for your firm Omart?
I would like to make Omart a multi billion dollar company and I wish I could launch it's IPO soon. I wish to see Omart expanding and getting used worldwide.
Visit Omart on Instagram.