The Startup Story of PortraitFlip – Turn Your Photo Into a Painting
We came up with the new startup story. The Startup Story of PortraitFlip. This is the story of three engineers, how they started the PortraitFlip by saving the monthly pocket money that they used to get in college. PortraitFlip having a huge base of artists, invites the customers to its website and get exactly what they had been looking for.
Startup Name: PortraitFlip
Founders:
Sunny Kumar
Lavdeep Chahal
Shubhanshu Maheshwari
Interview with Sunny Kumar, Co-Founder of PortraitFlip
TechnoVans team asked Sunny to share the startup story of PortraitFlip, and here we are publishing the interview of Sunny, co-founder of PortraitFlip.

Tell us about your education and experience.
Myself Sunny Kumar and Lavdeep Chahal have done our B-Tech in mechanical engineering and Shubhanshu Maheshwari has done his B-tech in electrical engineering.
Apart from our education we have done a couple of internships during our education itself and have dived directly into the world of business.

Tell us about your startup, what products/services provided by your startup?
PortraitFlip is a niche e-commerce site that specializes in making customized and personalized portrait paintings. One can choose from a wide variety of mediums right from oil to charcoal.
In simple terms we turn your photos into paintings.

Why the name PortraitFlip?
It may seem comical but we thought that we should flip people's pictures into paintings and hence came up with the name PortraitFlip.
Related Post: Startup Story of Salary Dost
How did you come up with this idea? and how much efforts you have taken to implement it?
Lavdeep had a friend who was looking for a really cool and personalized gift for her friend.
Upon inquiring with Lavdeep he realized that there isn't really a big market for special personalized goods and therein lies the seed of thought from which PortraitFlip was born.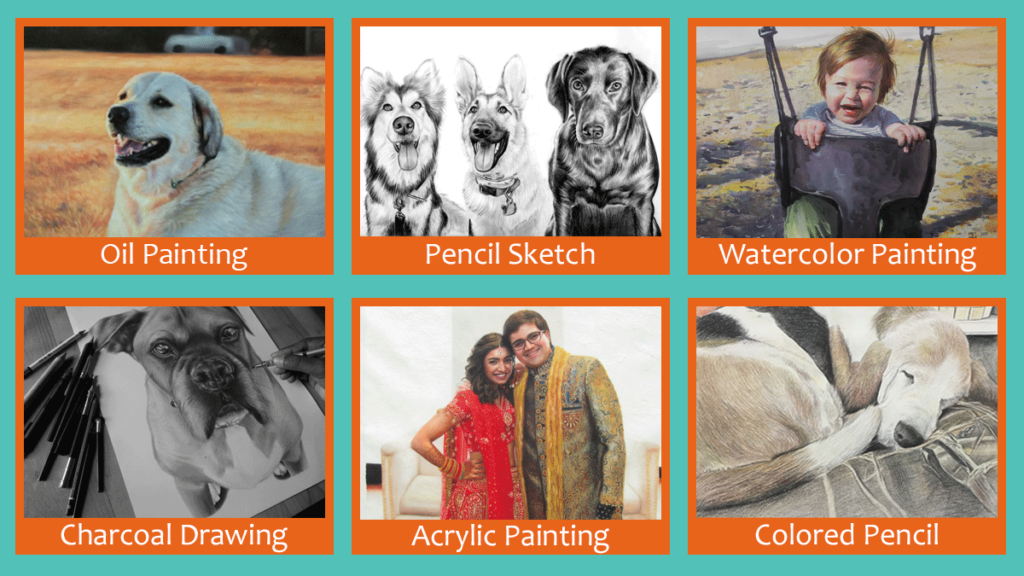 We had to learn all the different and technical aspects of the business on our own and we took money from our friends as well as our pocket money to initially fund this venture. All we had was a little cash and a big dream.

How much money did it require to start PortraitFlip?
We started PortraitFlip with less than Rs 10,000.
Also Read: Startup Story of NextAds Tricycle
How much was your first income? How(where) you have used/invested it ?
Our first income was close to Rs 1,600 and we invested it back into the company in various social media campaigns.

How do you manage your time in a day? Please give us detail about your daily routine.
We come to office at around 10:30 and get started on topics for our blog and also try to figure out our social media campaigns so that we can reach out to our target audience.
We may take a break for lunch and read some books or watch informative youtube channels to keep ourselves motivated and fresh.

What were the problems/challenges you faced to this date? how did you overcome them?
The difficulties we faced in the initial stages of setting up the business were handling the logistics, shipping and the artists which are actually the core of our business. With time we have acquired a good network of artists and have special tie up's with companies like FedX and DHL which helps us speed up the delivery process. Creating an in house team is also one of the many problems we faced and we have now hired a team of content writers and a graphic designer to help scale our business.
Why do your customers select you over your competitors?
The reason is we provide quality work at competitively cheaper rates which guarantees 100% customer satisfaction.
These are the simple principles because of which we have a substantial customer base as of now.
Also read the motivational story of Parikshit Shah – He is on bed from birth helps his family
Do you have website for your business? If Yes, How do you manage your website?
Yes we do have a website and we manage it through WordPress. We have hired a team of content writers and a graphic designer so that our website is always rich in content and visually appealing.
This is a great way to get drive traffic towards your business and create a client base.
How do you promote your product/services?
There are several aspects and avenues through which we market our product
We make it a point to publish at least 2 blog articles on our website in a weekly manner.
This helps in our google ranking factors.
We run several social media campains through facebook and instagram ads which help us target the niche audience that we are looking for.
We use this tool to boost up our search engine marketing.
We have tie up's with several niche influencers who can promote our site and help us reach a bigger audience.
What are the future goals for your firm PortraitFlip?
We want to grow our business by three times it current value at the end of the year.

What you will tell our audience so that they will get motivation from you?
We believe that you should gain as much knowledge and understanding about any field that you want to pursue. The drive and determination is important but consistency is more important than the intensity. You have to be disciplined enough to put in the work every single day. Learn to dream with your eyes open and the best time to do anything is now.

We hope you got some motivation from this Startup Story of PortraitFlip.
If you have something interesting to share with us then please connect with us through the contact page or through an email: hellotechnovans@gmail.com