Nyus App Developed by Indian Techie for News as Memes
We at TechnoVans, featuring interesting Tech Stories and providing the platform for Techies to become more visible on the internet. So, today we came up with the new Tech Story, the story of Nyus App – News as Memes, developed by Puru Thakkar, an Indian techie.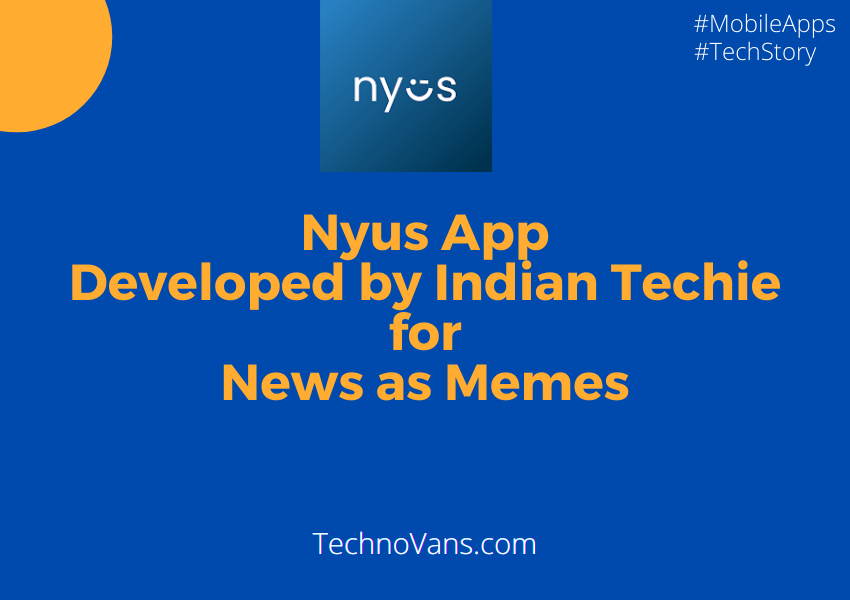 Interview with Puru Thakkar, the founder of the Nyus App
Please tell us about yourself.
Hey, I'm Puru Thakkar. I live in Vadodara, Gujarat, and am currently pursuing BBA from GCEC, Jaipur. I am in 2nd year right now.
Tell us about the app you developed?
After reading a comment on Reddit, I realized how most of the news that teenagers get is from memes they see online. This sparked the idea of Nyus. Nyus gives news in the form of memes and makes news fun and enjoyable. It also gives the headline and a short summary of the news alongside the meme.
Why the name Nyus App?
"Nyus" is just a misspelled "News". It is what the famous "meme man" meme would say.
How much effort you have taken to implement it?
After I got the idea of Nyus, my first task was to validate it. I made the MVP in 2 days and gave the app to my friends. They all loved the idea which gave me the confidence to launch it on the Play Store.
How to use this app? any manual or video you have prepared for the same?
Making Nyus easy and fun to use has always been my top priority. You can download the app from the Play Store and get started browsing news. Yes, it's that simple!
What challenges did you face while working on this project of developing the Nyus app? How did you overcome them?
The main challenge for a company in the content niche is content quality and quantity. We had issues with the quantity of news on the app. In the early days, we only posted 4-5 news a day which was too low. We have worked on it by bringing new memer ( or as well call them "kreators" ) to the app. We already have 25 kreators and we're looking forward to getting a lot more. We now post 17-20 articles a day and we're working on increasing this number even further.
Also Read – Interview with Pankaj Patidar, creator of iConvey, the Feedback Management tool for SaaS companies
How much money did it require to develop and make it available for users?
I am a developer myself so it didn't cost anything to build the app.
The only major technological cost we had was the one-time Play Store fees of $25.
How do you provide support for the user's queries regarding the use of the app?
We are very active when it comes to user support. We reply to all reviews on Play Store and that is an excellent platform to share your feedback with us. You can also email us and we will get back to you in a few days.
What are the TOP three reasons you think people should use the Nyus app?
1) News Articles are long and boring.
2) Nyus makes news fun and easy to digest.
3) It helps you stay informed without boring you
What are the future goals for the Nyus app?
We're working on improving the experience for our kreators and are working towards onboarding as many kreators as we can. So if you're a memer, don't hesitate in applying from our website!
Download and install the Nyus app from Google Play Store.
---
Also Read –
1. Chingari – Trending video sharing app ( alternative to TikTok )
2. Fuzia – Best platform to showcase your talent and creativity
Get your app featured on TechnoVans, contact us through this website or send us an email at hello@technovans.com